Wybrane projekty, które mieliśmy przyjemność zrealizować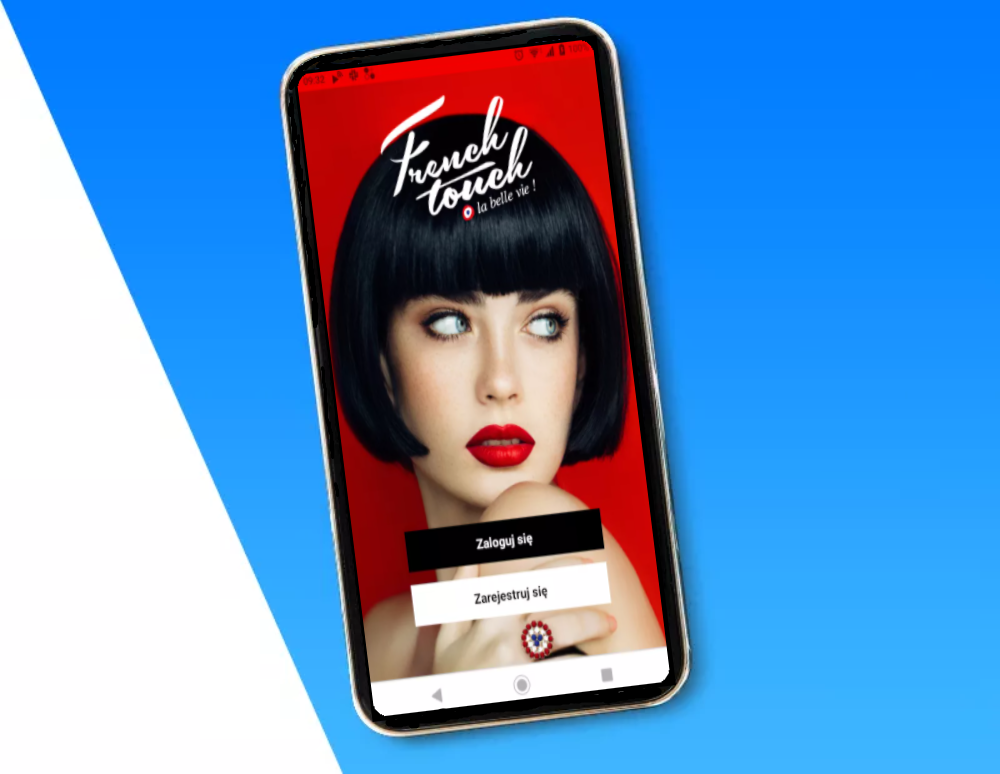 French Touch
Aplikacja mobilna dla uczestników French Touch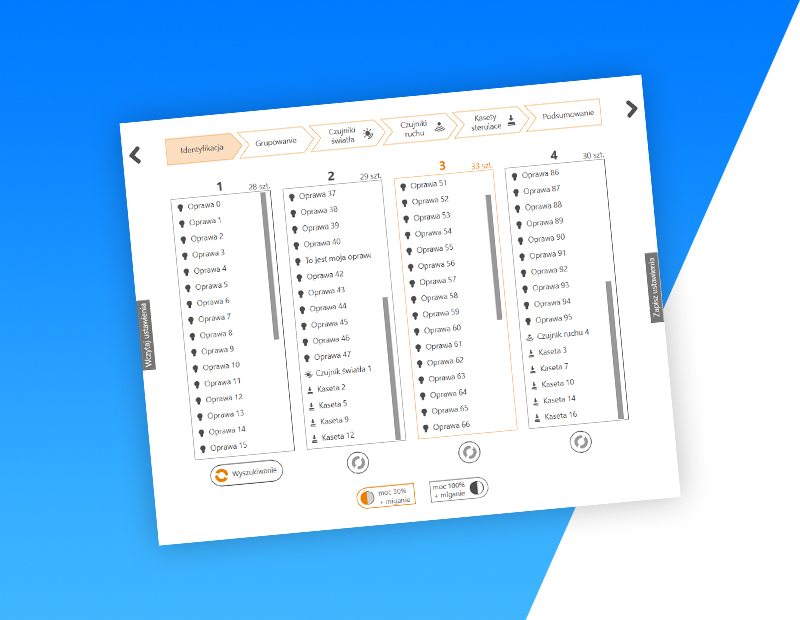 NowaLed
Stworzyliśmy aplikację desktopową WPF do zarządzania sterownikiem oświetlenia przemysłowego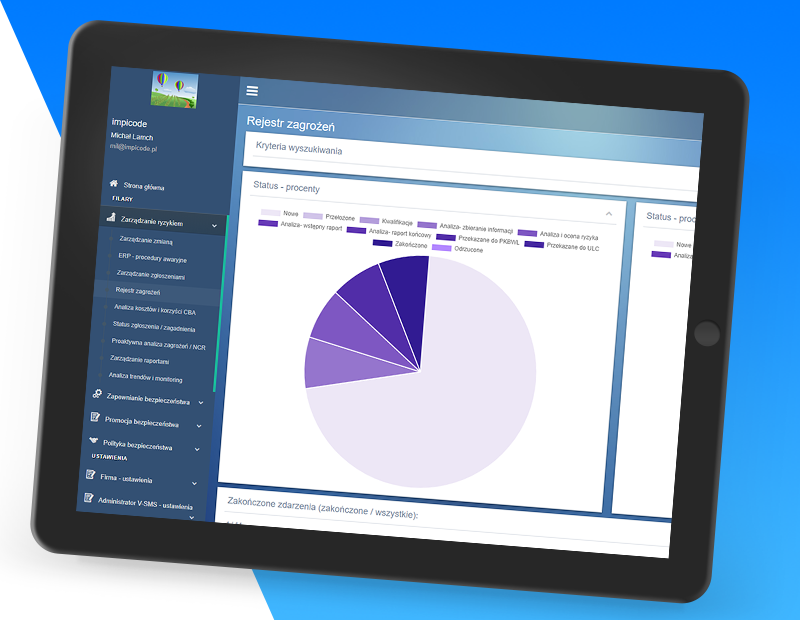 VSMS - Virtual Safety Management System
Narzędzia do zarządzania ryzykiem oraz bezpieczeństwem w lotnictwie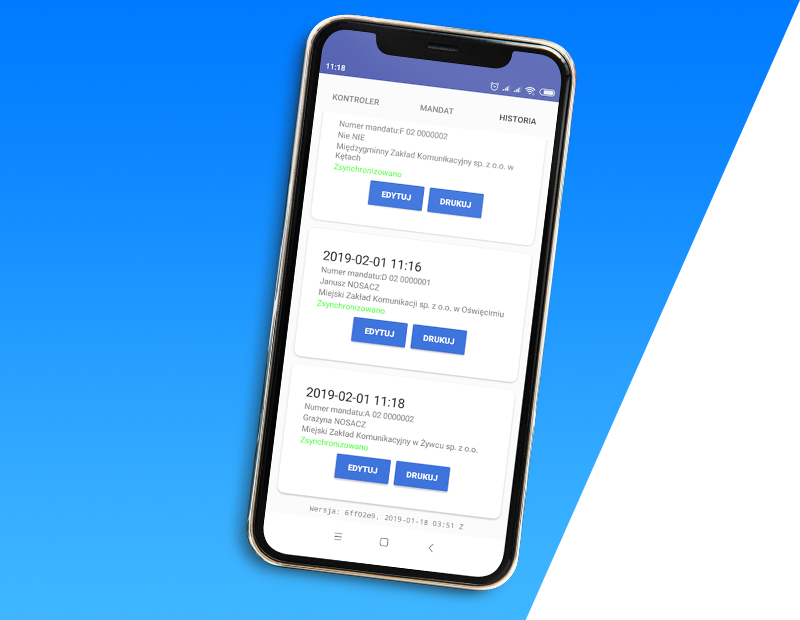 Vector Controls
Aplikacja dla
kontrolerów komunikacji publicznej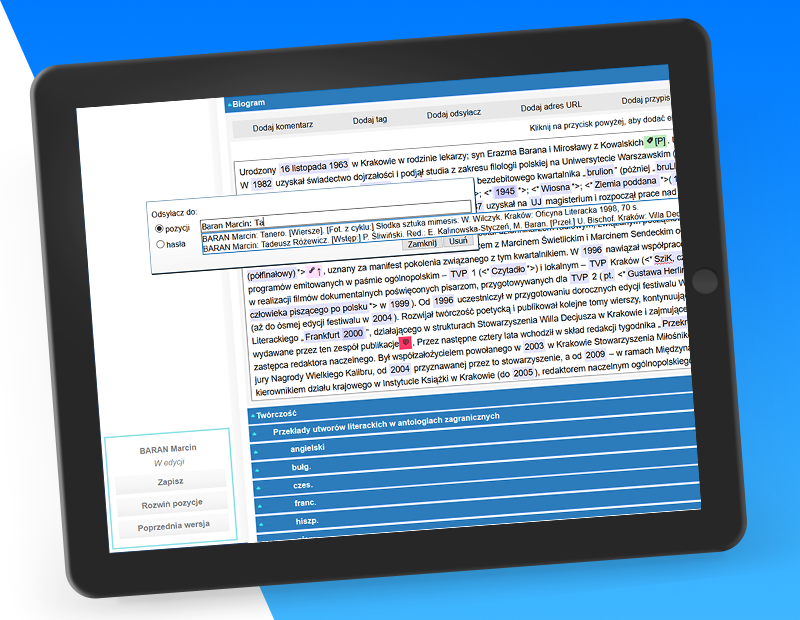 Aplikacja IBL
Naukowy system do przetwarzania danych biobibliograficznych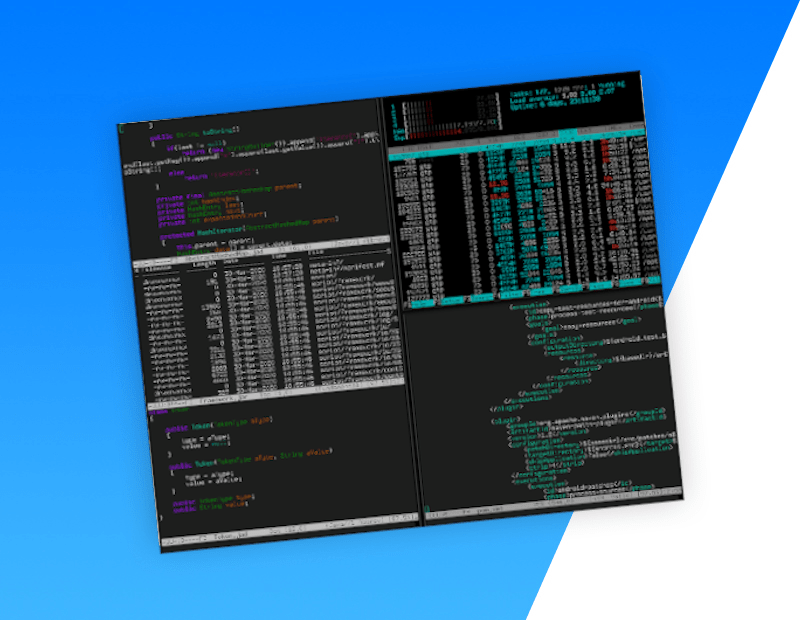 Bank Nowy BFG
Optymalizacja systemu back office
---
Nasi klienci - kotwica
Nasi klienci
---
---
---
---
---
---
Referencje - kotwica
Referencje
---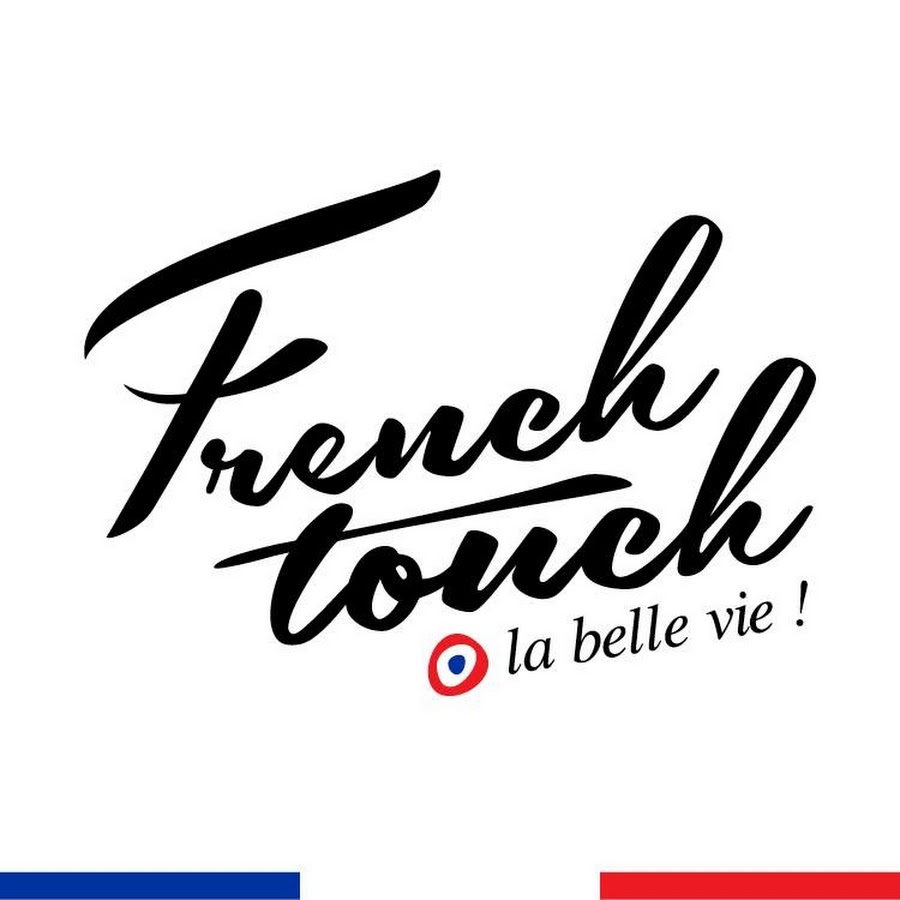 French Touch is a celebration of the Polish-French friendship. This extraordinary event organised in Poland attracts lovers of French art, culture, music and cuisine. During the festival all participants have a chance to taste some delicious French cooking, discover the latest fashion trends and take part in many additional attractions. The culmination of the event is a fabulous show where Polish and French musicians perform together.
In 2020 French Touch established a cooperation with ImpiCode. Their job was to take over the maintenance of our existing web page and develop new mobile application on iOS and Android. We are pleased to admit that our collaboration turned out to be successful. As a result of our partnership, our brand new mobile application finally has been launched into the market. Fortunately, the application delighted not only us but also our clients. Thanks to the app, all French Touch participants had quick and easy access to current information, magazine, and event tickets. In addition, they were able to take advantage of the promotional offers of our partners.
I appreciate the ImpiCode commitment, friendly attitude and excellent understanding of our needs. They are not only great partners but also experienced developers. I want to highlight that ImpiCode has done a great job.
I highly recommend ImpiCode as a great business partner and competent provider of mobile and web applications.
- Daniel Teboul
President Cryptone Agency

Firma NowaLed ILL będący producentem oświetlenia przemysłowego, potwierdza wykonanie przez firmę ImpiCode aplikacji desktopowej WPF do zarządzania naszym autorskim systemem sterowania oświetleniem.
Przebieg i sposób realizacji zadania w pełni spełnił nasze oczekiwania. Doceniamy również atmosferę współpracy i profesjonalizm wszystkich osób reprezentujących firmę ImpiCode i biorących udział w procesie tworzenia aplikacji.
Mamy przyjemność rekomendować firmę Impicode wszystkim, przed którymi stoją zadania stworzenia aplikacji desktopowych do swoich projektów.
– Bogdan Mykytei
Wiceprezes Zarządu NowaLed ILL Sp. z o.o.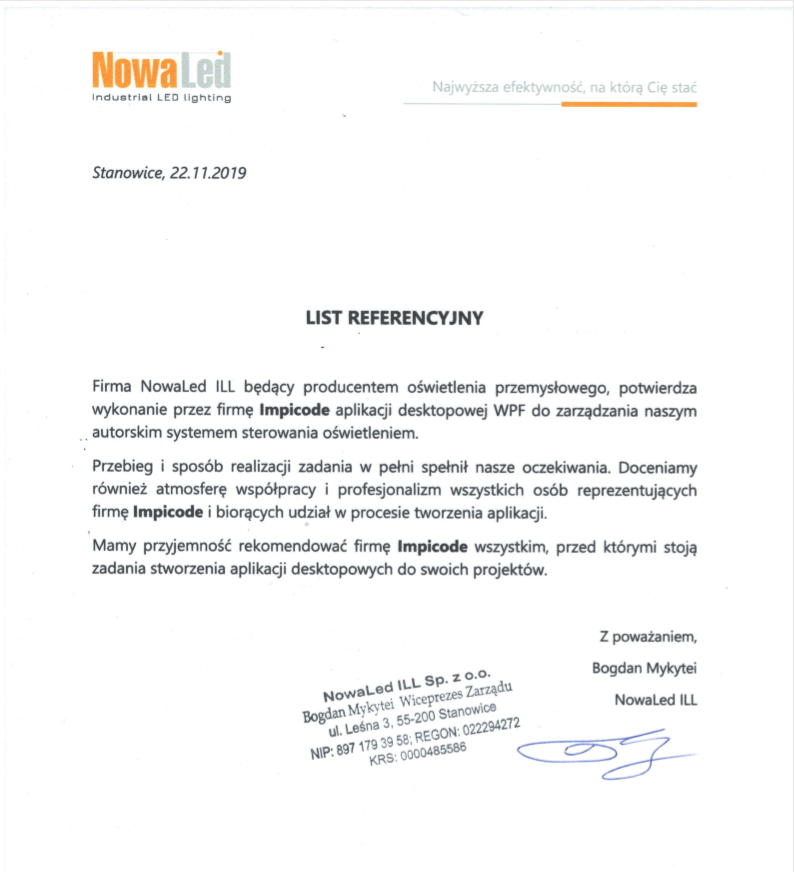 Z przyjemnością polecam firmę ImpiCode Sp. o.o. jako profesjonalnego dostawcę usług programistycznych.
Spółka ImpiCode wykazała się najwyższej klasy profesjonalizmem i sprawnością, pomagając zlokalizowanemu w Chinach zespołowi programistycznemu Winner Europe w integracji z polskim dostawcą usług kurierskich.
Współpraca z ImpiCode przebiegała w pełni profesjonalnie. Specjaliści ImpiCode sprawnie rozwiązali problem, który od kilku miesięcy wstrzymywał rozwój naszego biznesu. Wykazali się najwyższym poziomem znajomości .NET, a także bardzo dobrymi umiejętnościami technicznymi i komunikacyjnymi.
Z pełnym przekonaniem mogę polecić ImpiCode Sp. z o.o. jako dobrego partnera i kompetentnego dostawcę usług programistycznych.
- Beata Bąk-Premik
tłumacz asystent z upoważnienia
vice Prezes Zarządu Wang Zhuoxin
Winner Europe Sp. z o.o.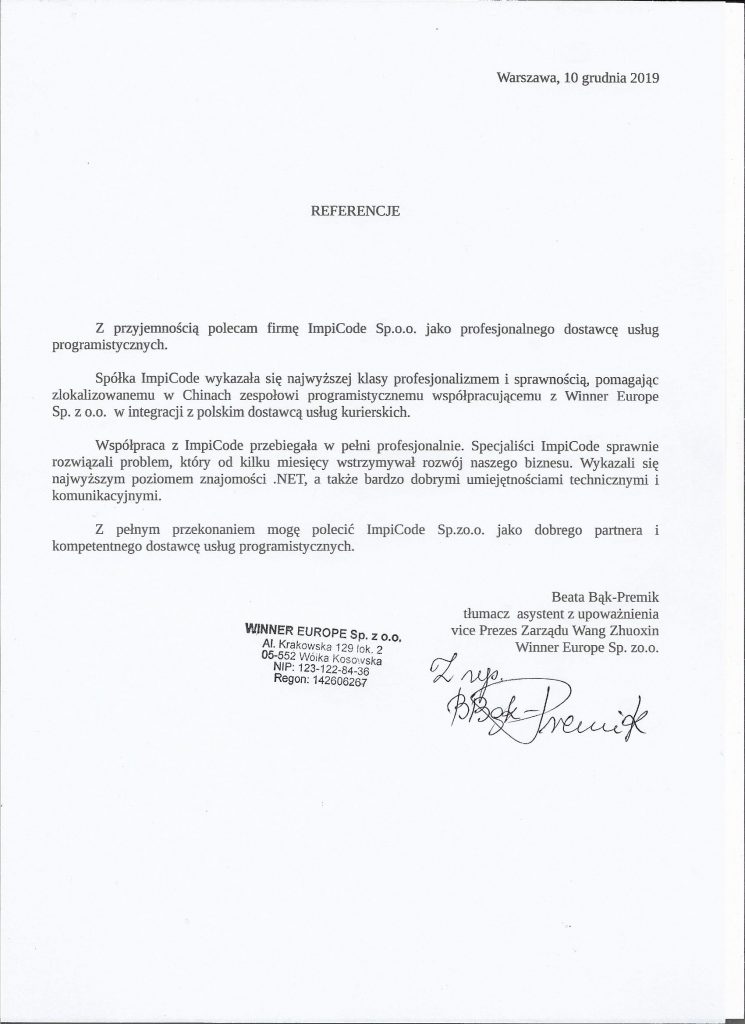 Virtual SMS is a web-based application primarily created based on ICAO requirements and currently includes over 30 modules. It is an integrated solution which provides a ser of tools to manage safety, risk, business continuity and quality. Demonstrating compliance with the requirements using V-SMS is simple and fast.
In October 2018 ImpiCode undertook the task of the maintenance and development of the system. ImpiCode employees demonstrate top-class skills and efficiency, ensuring it's smooth working of the Virtual SMS application.
Cooperation with the ImpiCode Team is extraordinary and simply professional. ImpiCode programmers are highly competent, responsible and able to efficently solve technical problems. ImpiCode is definitely a reliable partner and the have demonstrated that they can get things done.
I highly recommend ImpiCode Sp. z o.o. and a excellent partner and a competent provider of software outsourcing.
- Marek Lewandowski
Virutal SMS Owner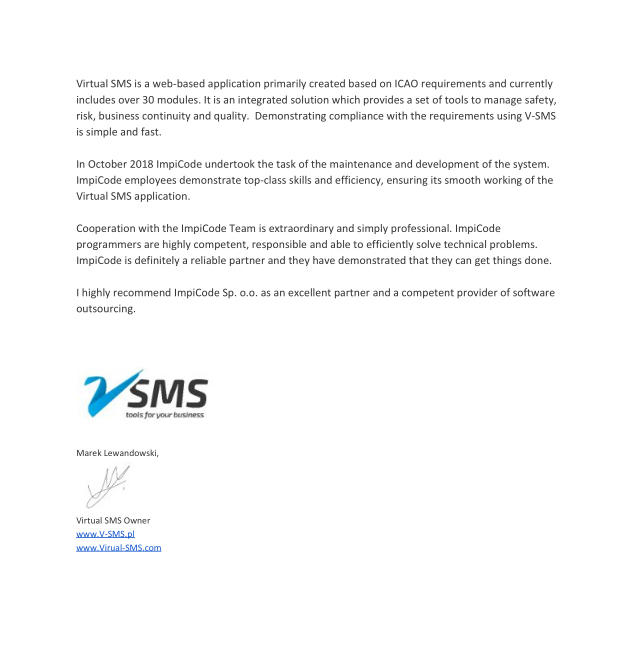 I would like to recommend an outstanding business consultant. Mr Grzegorz Papaj was delegated by the ImpiCode Sp. z o.o. company to the e-Boat Bootcamp 2019 event which I was organizing on behalf of the Centre of Innovation and Technology Transfer of Medical University of Łódź. The event was a start-up accelerator for e-Health Apps Solutions and gathered 12 start-ups from all overt Europe.
Grzegorz has participated in the event as one of two business mentors for the start-up teams. His role was to provide a mentoring, business support and advice to the teams developing innovative mobile applications in the healthcare area. He fulfilled the role excellently, demonstrating a high level of expertise, technical and business knowledge as well as very good communication skills and professional approach.
Grzegorz has definitely contributed to the development of business models of some of the start‑ups. It is worth to emphasize that he has participated in the part of the e-Boat that took place onboard a sailing ship at sea during the cruise from Gdańsk to Riga, what made this cruise hackathon an extreme challenge.
I believe Grzegorz Papaj is the person who can make a difference with a tech company. His professional approach and business experience make his expertise valuable to not only to a start-up. I can recommend Grzegorz as a competent and reliable consultant.
- Ewa Nocuń
Project Manager
Centre of Innovation and Technology Transfer
Medical University of Łódź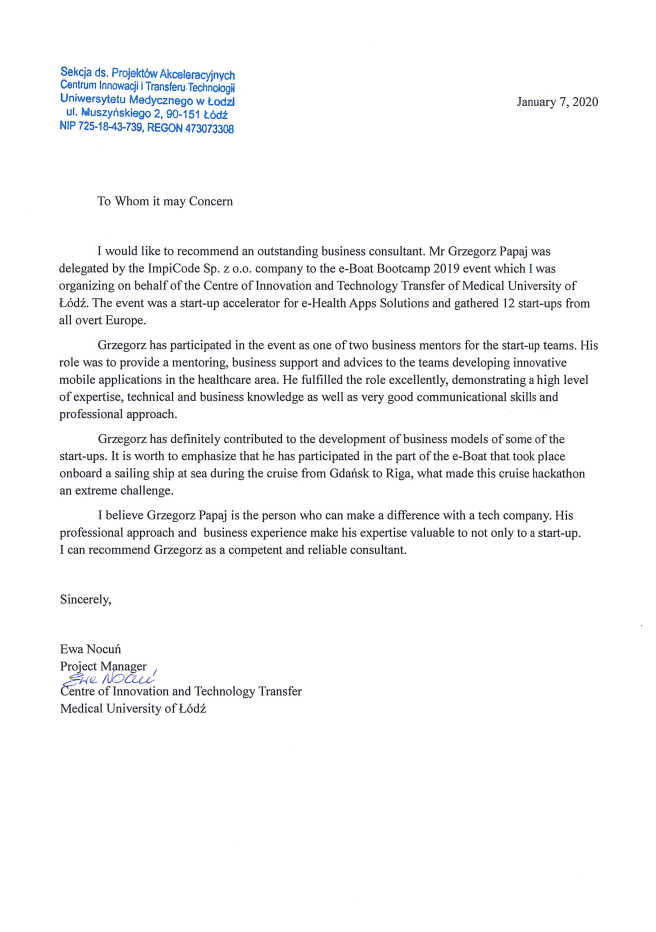 Podkarpacki Bank Spółdzielczy świadczy wysokiej jakości usługi finansowe przy wykorzystaniu nowoczesnych technologii i kanałów dystrybucji. Od 2018 roku współpracujemy z firmą ImpiCode Sp. z o.o. z siedzibą w Warszawie. Współpraca obejmuje utrzymanie i modernizację wewnętrznych systemów Banku.
ImpiCode jest godnym zaufania partnerem biznesowym. Pracownicy firmy mają duże doświadczenie i wysokie kompetencje. Komunikacja z kierownikiem projektu odbywa się na wysokim poziomie i nie stanowi żadnych problemów. Programiści sprawnie i z pełnym profesjonalizmem realizują postawione przed nimi zadania, czym przyczyniają się do usprawnienia funkcjonowania wewnętrznych procesów w PBS.
Z przyjemnością rekomendujemy firmę ImpiCode Sp. z o.o. jako profesjonalnego partnera biznesowego i kompetentnego dostawcę usług programistycznych.
- Andrzej Dubis
Dyrektor Departamentu Informatyki PBS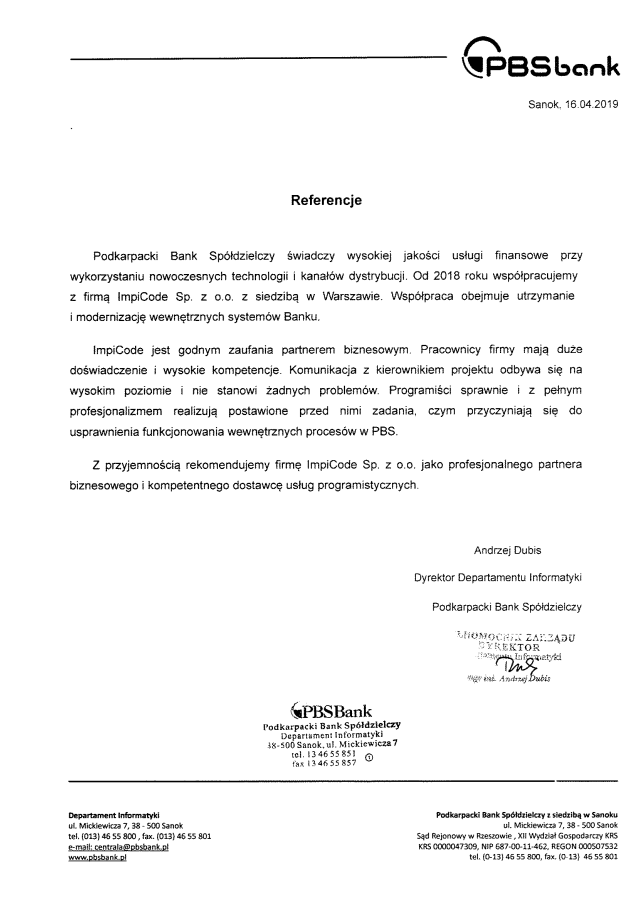 Nasze recenzje na Clutch.co
---